Through the Appalachian Forest: Field Explorations Illuminated by the Floyd Bartley Herbarium
This interactive exhibit invites visitors of all ages and abilities to become re-enchanted with the Appalachian forest. Twenty-four matching specimens were selected from the Floyd Bartley Herbarium (1930-1978) to match foliage collected by K-12 campers.
A multi-sensory passage through an Appalachian corridor combines symphonies of birds and insects with stories about outdoor life in Southeastern Ohio. Methodologies from the visual arts, environmental science and outdoor education engages us in a process of imagination, observation and collection. The companion collections, both snapshots of the regional biodiversity, span nearly a century.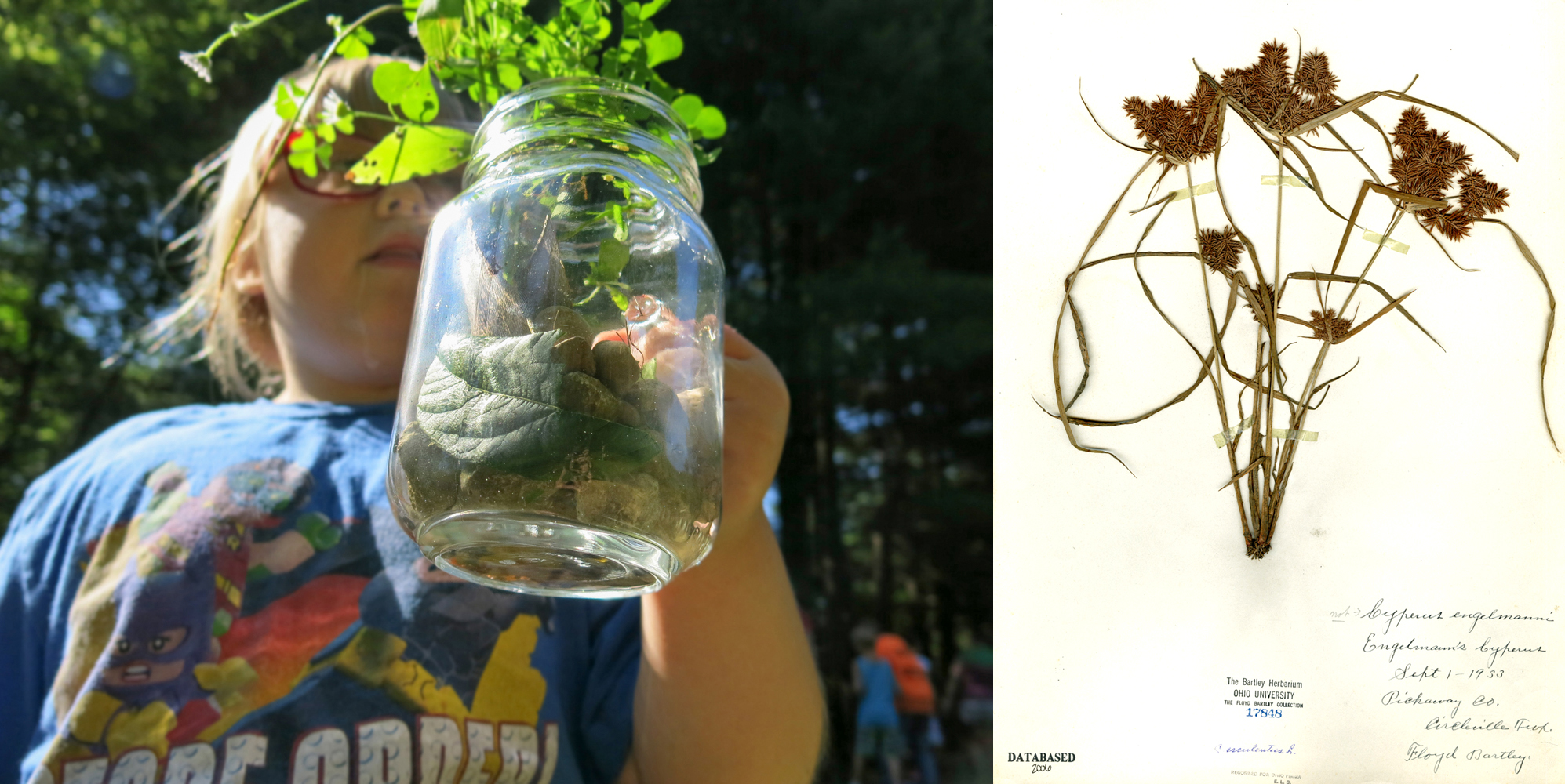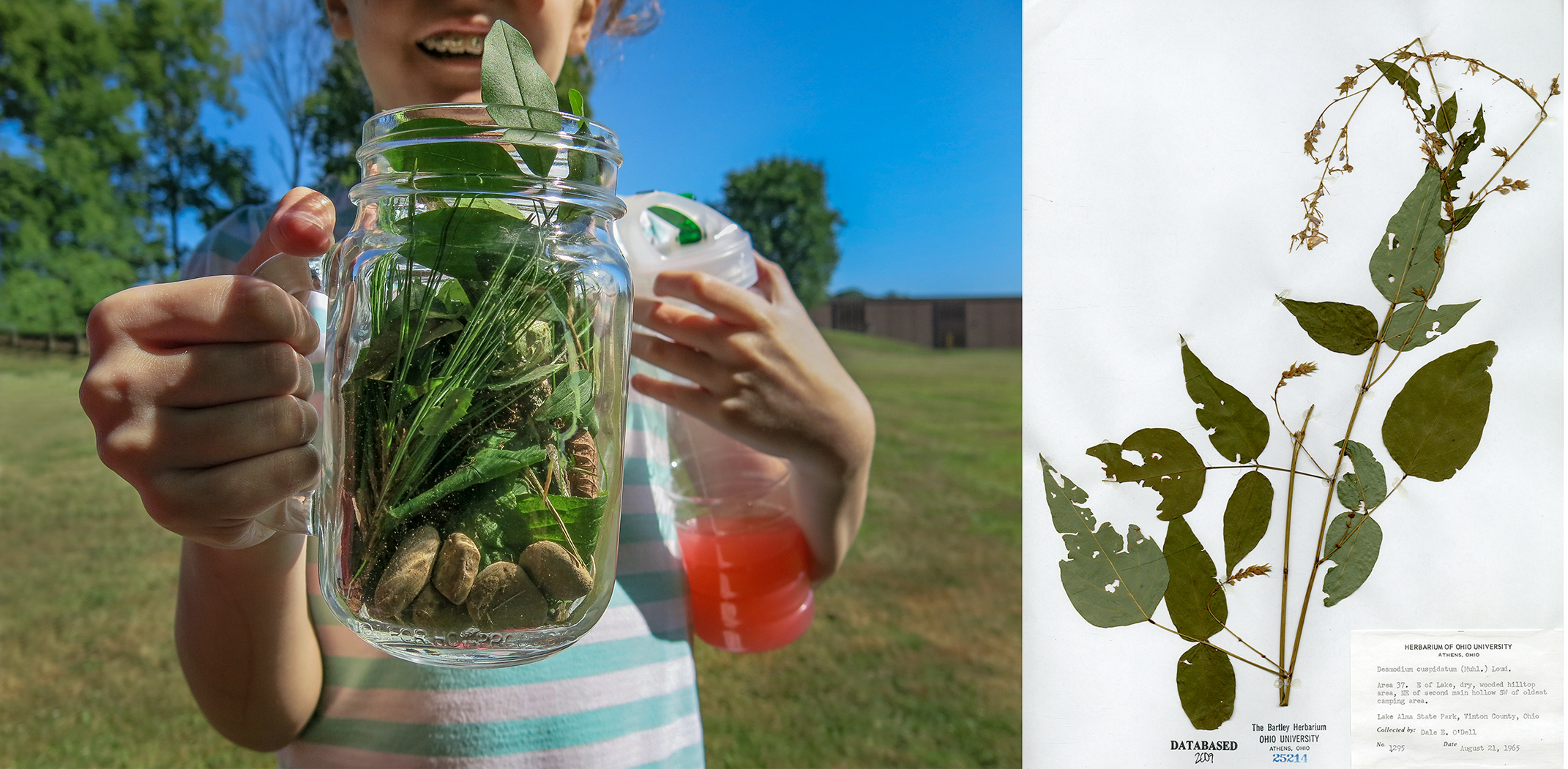 At a summer camp for underserved and at-risk children, young explorers gather to create natural collections from the forest corridor behind their school.
Diptychs of young collector presenting their findings, and conspecific specimen from the Floyd Bartley Herbarium. Matching collections present specimen pairs spanning collections up to a century apart in Southeastern Ohio.
The camper's collection jars are forensically examined to determine what varieties will be pulled from the herbarium. These images are a record the how the child connected with their environment. It is a record of the specimens they found, the color of clothing, the environment enveloped by exploratory hands.
View of exhibit entrance.

View from the paper cutting activity area. A digital assemblage of the camper's collections are installed on the left. This section of the gallery emphasizes the process of exploration, observation and collection.
Seed paper constructed from endangered regional seeds becomes a collaborative making of leaf shapes and wishes.Photo montage installation in Through the Appalachian Forest.
This section of the gallery is designated for crafts and youth engagement. Photographs document each young explorer's collection jar and inspire visitors to create their own with seed paper. Regional, At-risk, medicinal seeds donated by the United Plant Savers are embedded in the paper. Visitors are prompted to write a wish on their leaf shapes, leave one and take one.
View of curated Floyd Bartley Herbarium.
The mural is interactive, with touch-activated sound boards. so that visitors can sample local sounds of wind, rain, peepers chirping, owls screeching and many other locally familiar sounds. An ambient sound stage accentuates the entire exhibit, immersing visitors in a simulacra of the forest edge as it transitions from morning to evening.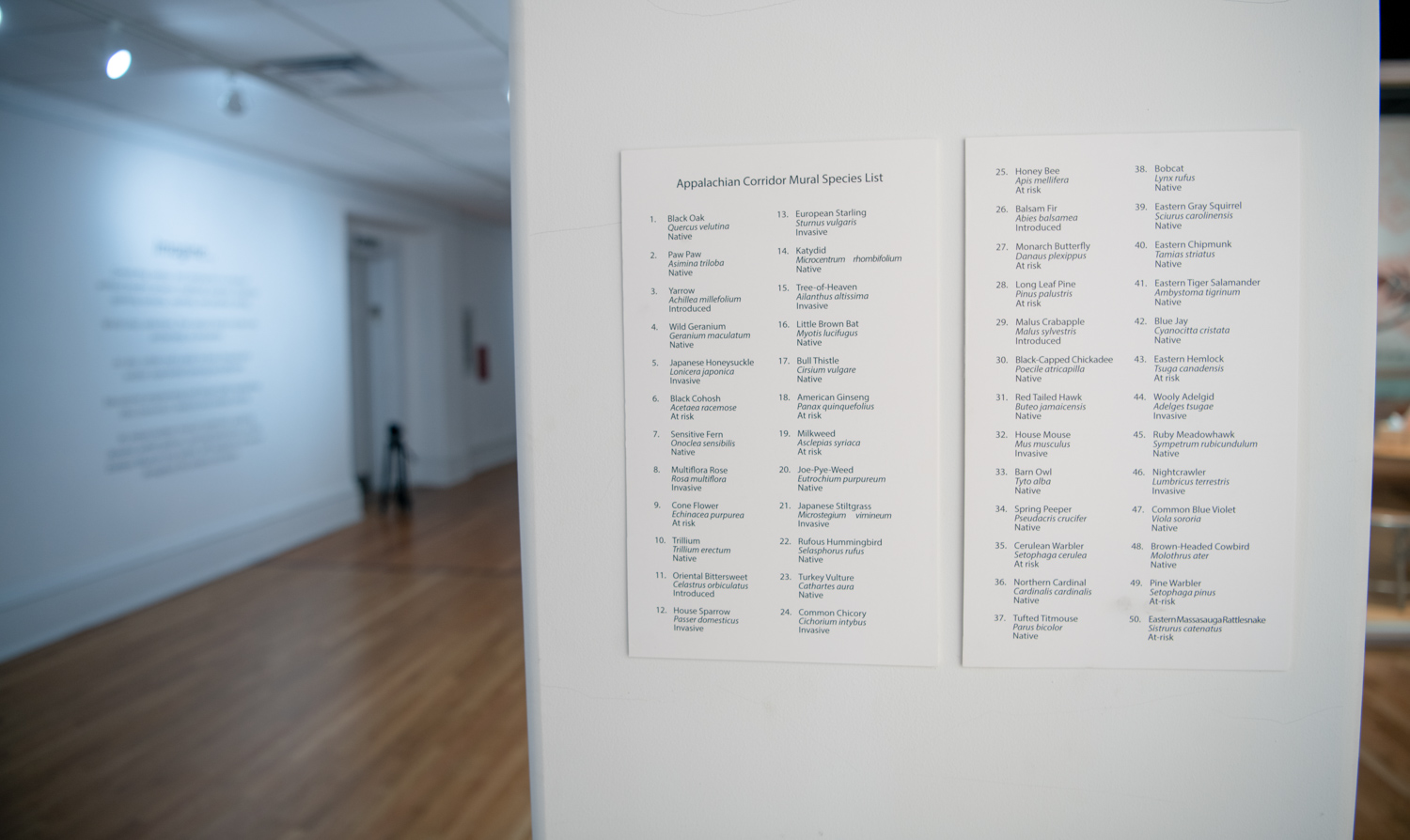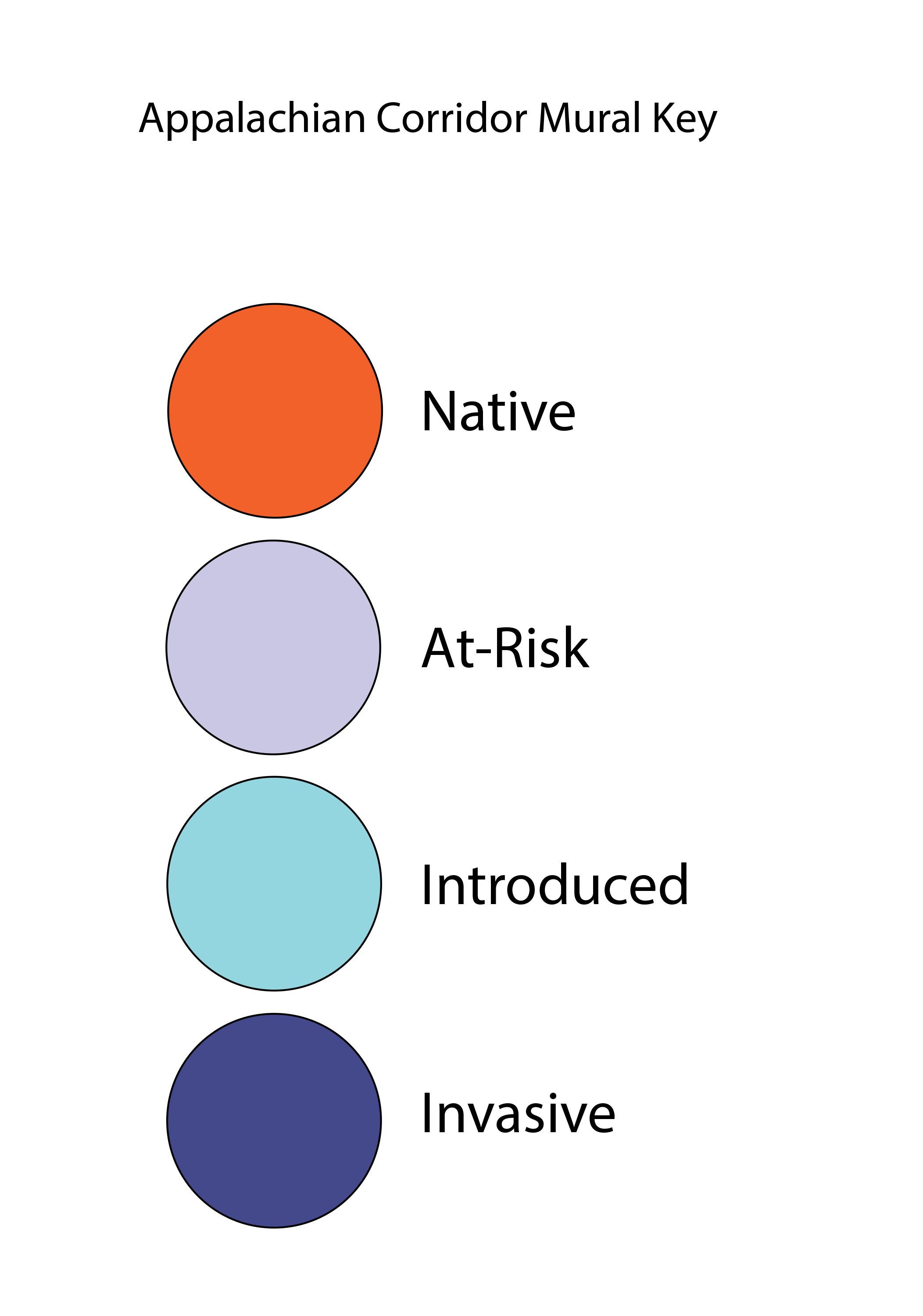 The mural depicts an iconic Southeastern Appalachian landscape, and functions as a scientific diagram. Layers of information reveal plant, insect and bird ecologies.  Visual cultures from folklore and botanical illustration are celebrated in the mural's aesthetic.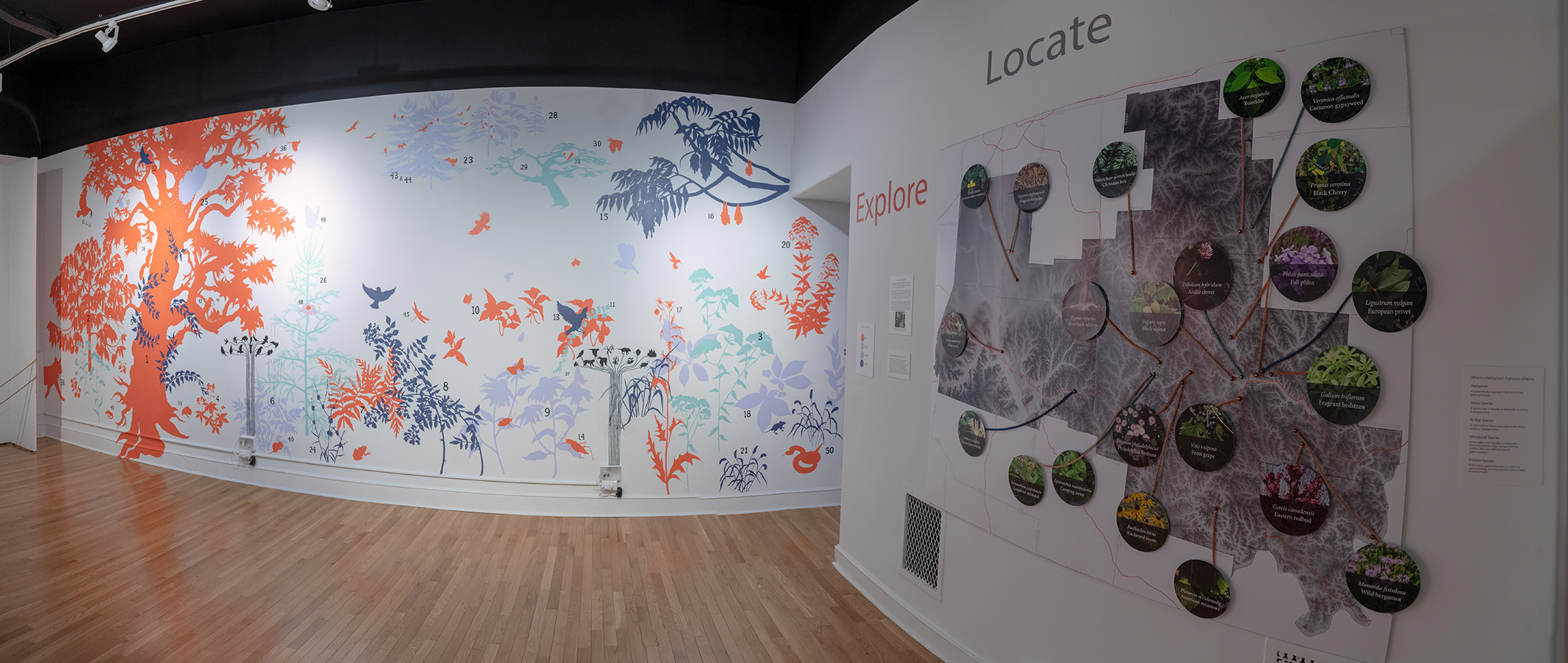 Topographic map of Southeastern Ohio, identifying the specific locations where the herbarium specimens were collected.