My oil pastel drawings are created using my body and movement to think through the arc of a drawing. Material embedded in the paper in thick layers akin to clay, are incrementally displaced and carved into through a series of strategic physical movement. By kneeling, sitting and pushing against the ground, subtleties of speed and direction are recorded. The resultant works merge plant and human identities which cannot hold a single spatial logic. They resist compositional traditions inherent to the classical unified gaze. They explore the stuttering gaze which cannot easily be fixed in mind of the viewer.
Scottish Thistle | Oil Bar on Paper | 48" x 32"
Invasive Devotional | Oil Bar on Paper | 48" x 32"
A Maize | Oil Bar on Paper | 42" x 30"
Becoming | Oil Bar on Paper | 72" x 60"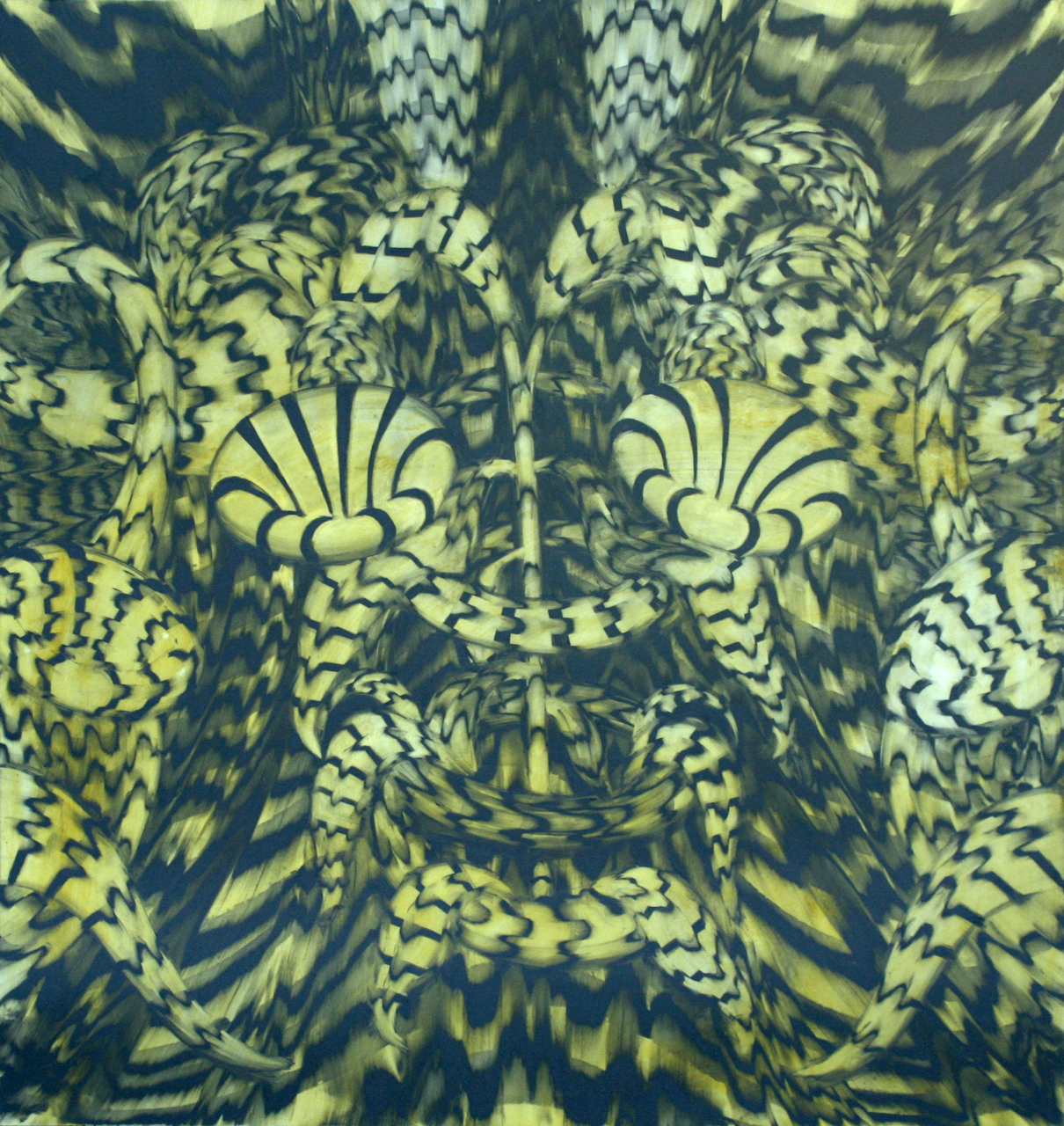 Poke Weed | Oil Bar and Poke Weed on Paper | 34" x 34.5"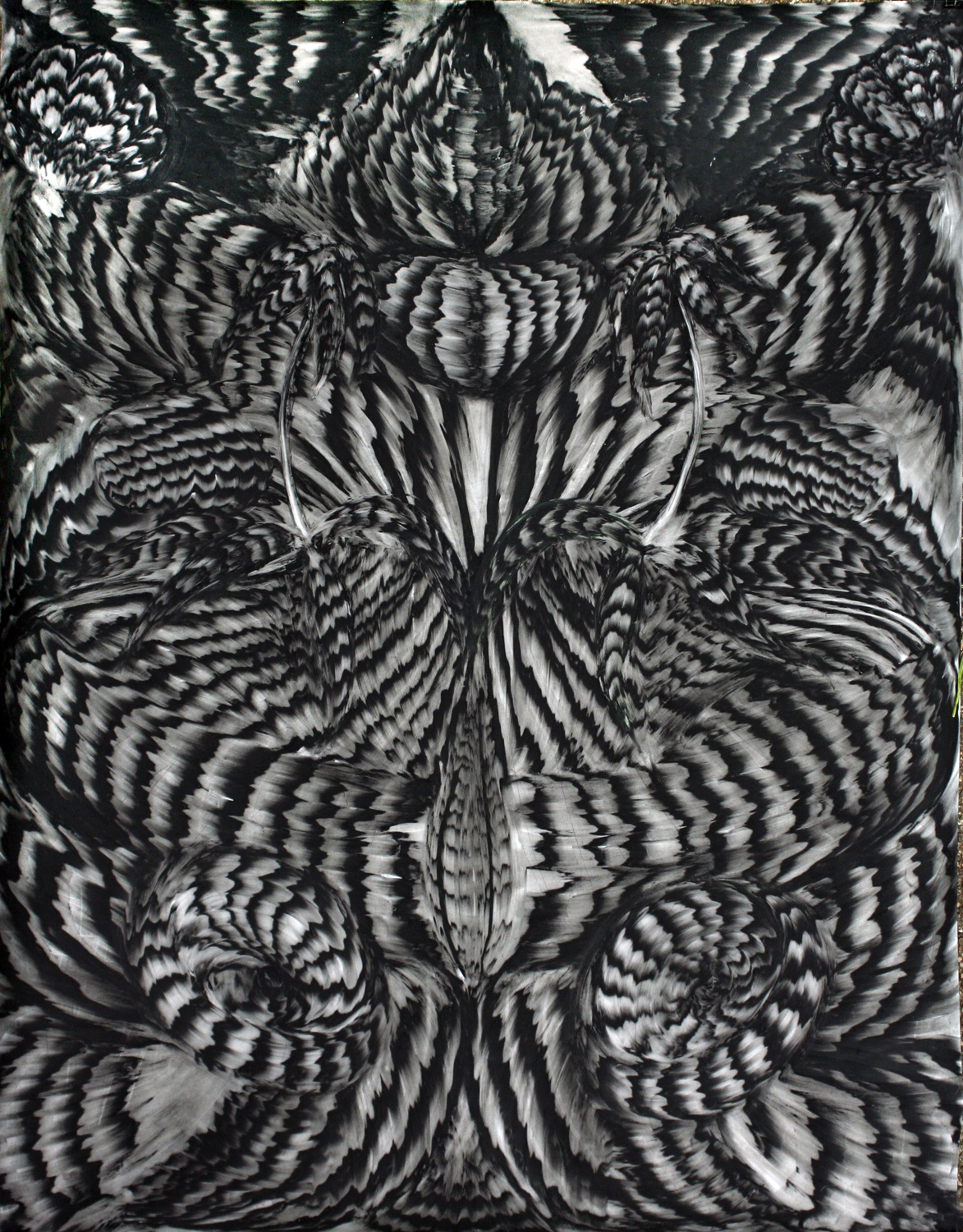 Fountain | Oil Bar on Paper | 42" x 28"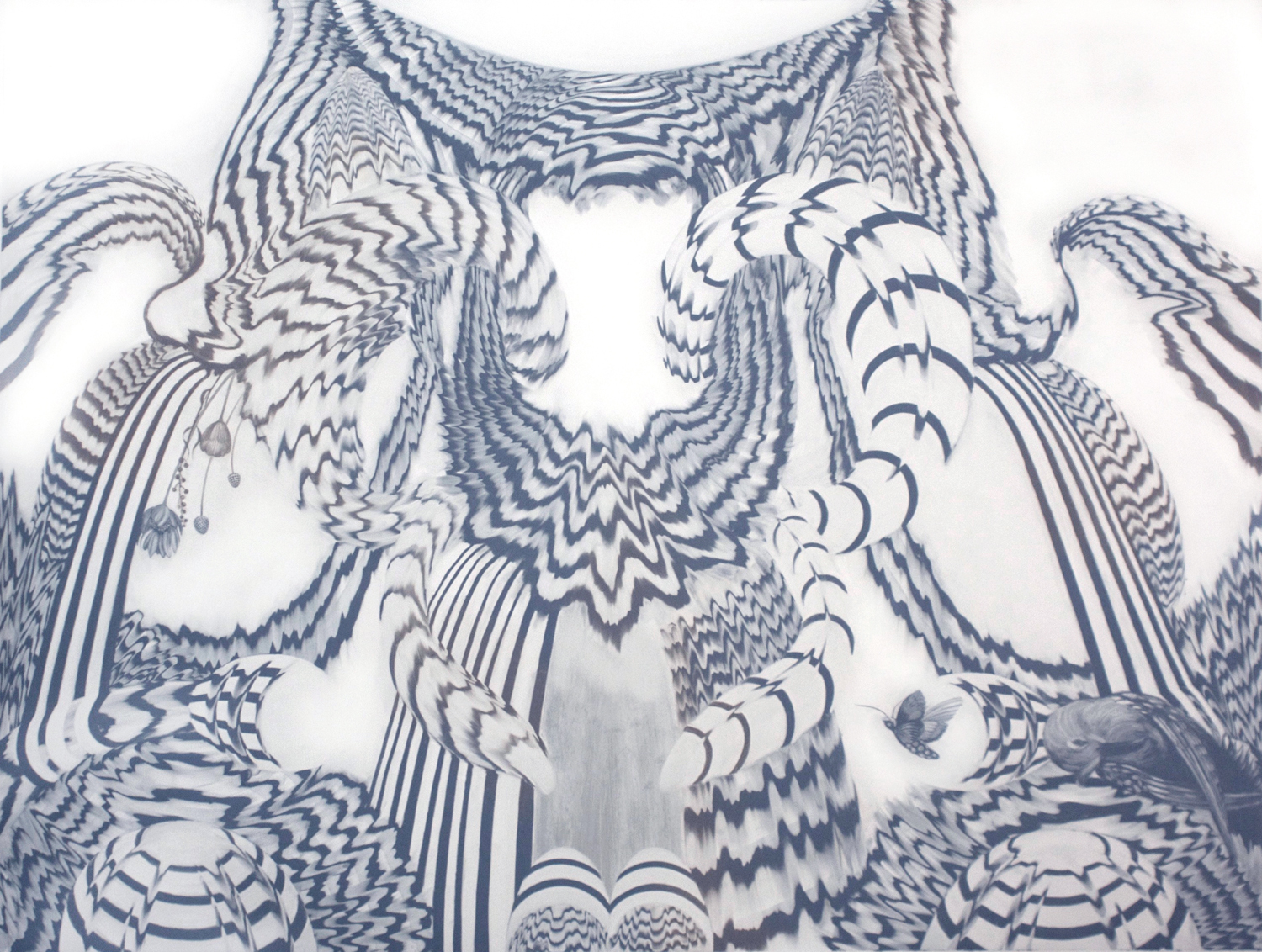 Everything is Entrance | Oil Bar on Paper | 48" x 62"
Rapid Expansion | Oil Bar on Paper | 60" x 72"
The reflective surfaces of the burnished graphite drawings engage the onlooker in perceptual play as areas of emphasis slip from positive to negative space and compositional elements appear to flicker. Destructive forms such as hand grenades and pistols are integrated into decorative and lush grounds to be discovered. These illusionist structures reference Ouija boards, video games, and chessboards. They reveal that there exist gradations between binaries such as black and white, medicine and poison, power and vulnerability. These pseudo-narrative works are also inspired by European landscape architecture drawings, turn of the century botanical illustrations, Audubon field guides, and illuminated manuscripts.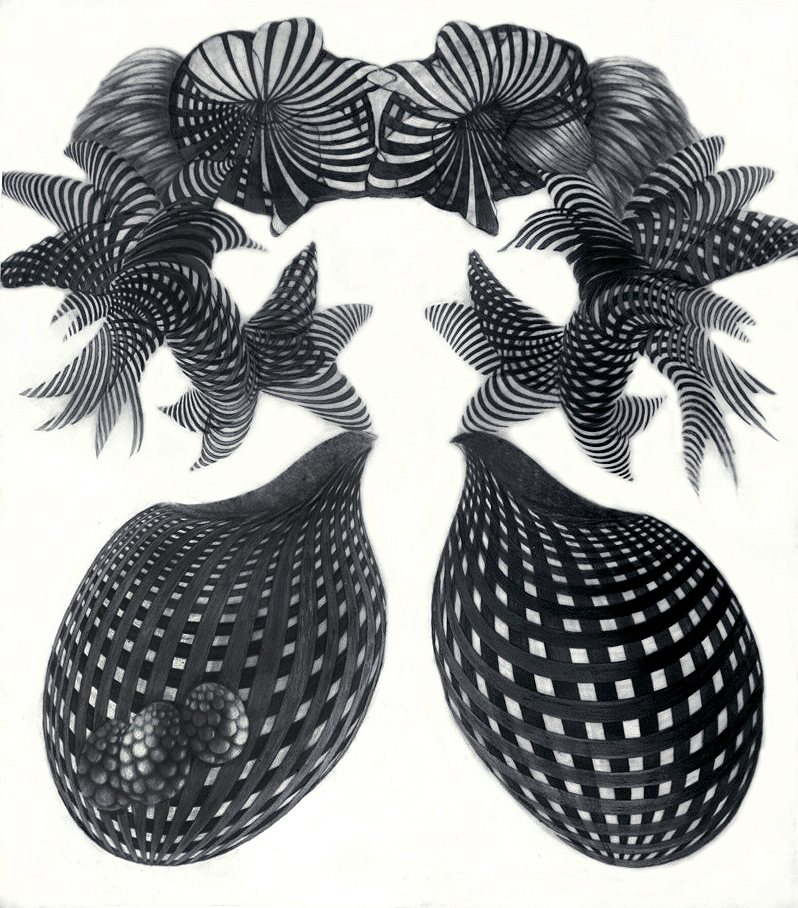 Vessels | Graphite on Both Sides of Translucent Paper | 39"x 28"
Summer Travel | Graphite on Both Sides of Translucent Paper | 34" x 32"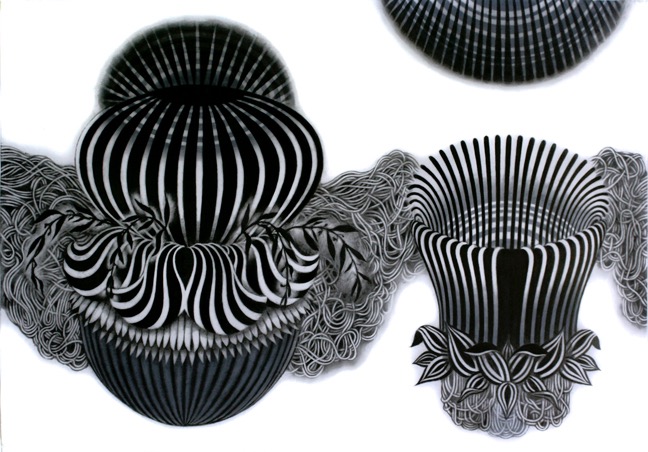 Outer Inner | Graphite on Both Sides of Translucent Paper | 14" x 22"
Betrayal of Beauty | Graphite on Both Sides of Translucent Paper | 34" x 32"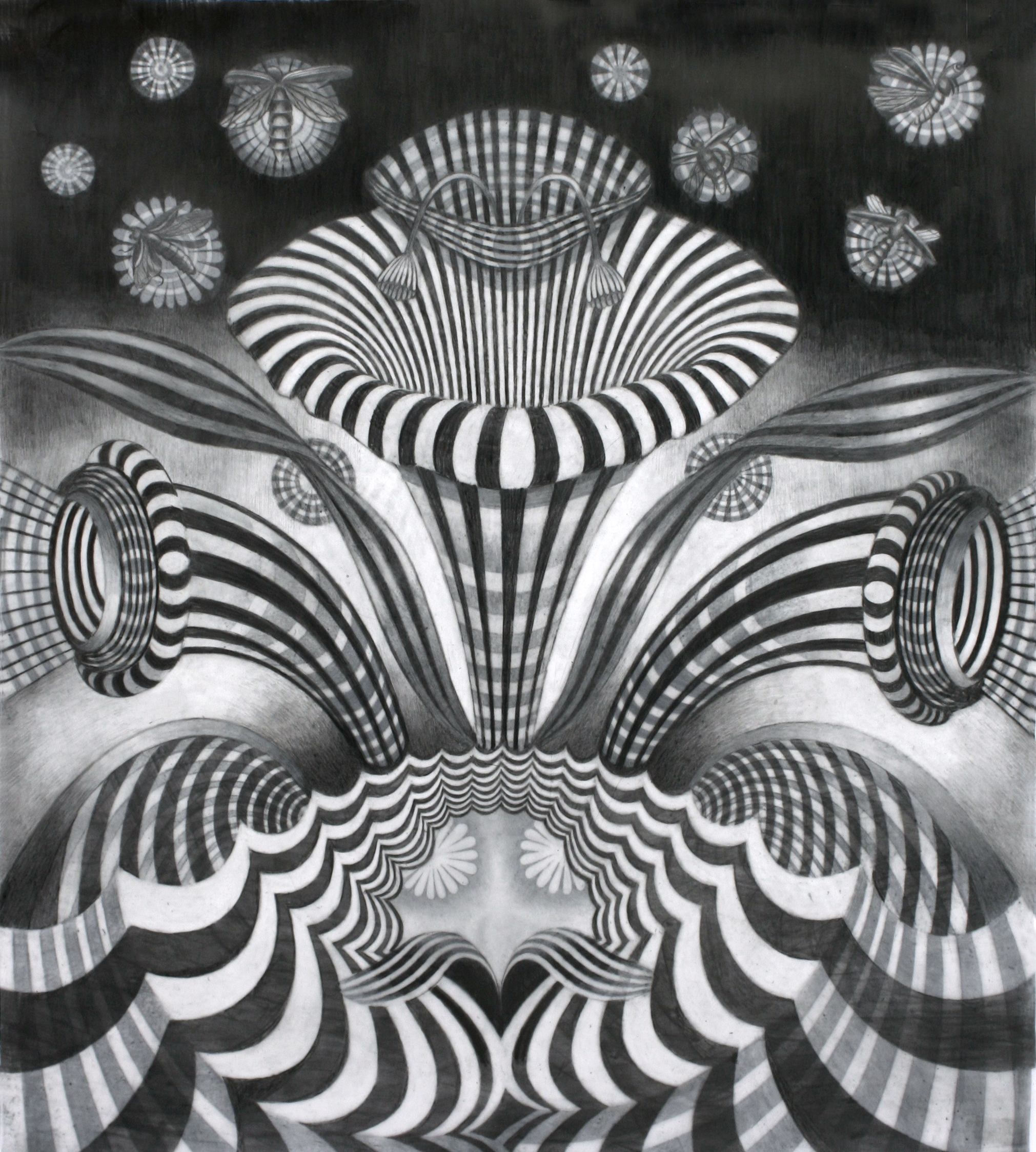 Energy Source | Graphite on Both Sides of Translucent Paper | 34" x 28"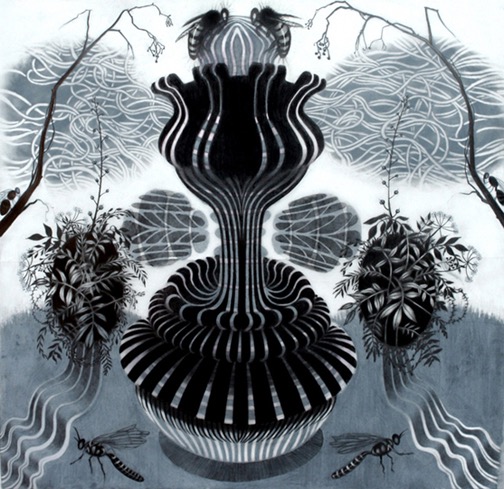 Hive Hex | Graphite on Both Sides of Translucent Paper | 34" x 32"
Hive Hex – View of Reflective Surface | Graphite on Both Sides of Translucent Paper | 34" x 32"